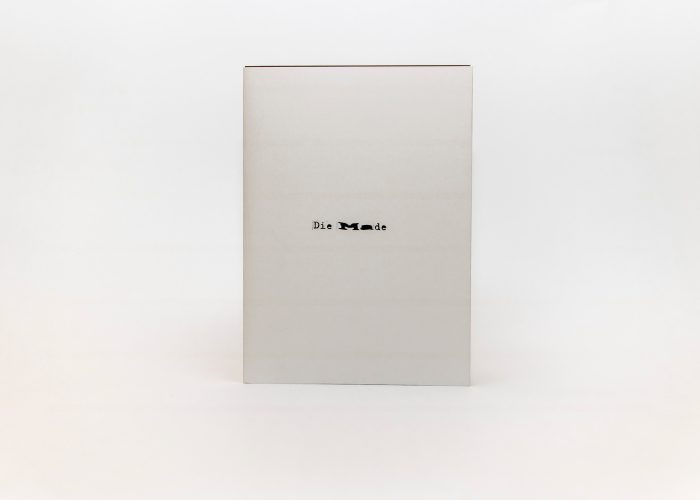 "Die Made" is a famous, comical poem by Heinz Erhardt, a German entertainer about a maggot mother telling her child to stay at home while she sets out to get some cabbage. The maggot child does not listen and ends up being eaten by a woodpecker.
The guidelines for this university project were to create a typographic book without using a computer. The tools I used were a typewriter, a photo copying machine for resizing and transformation, a cutter knife, tweezers, glue and a pencil. I chose to set the text of the poem according to the way Erhardt himself recited it. Every double page features one line of the poem set in five degreees of pitch with stressed syllables being slightly bigger and stretched words appearing stretched. The book features warmwhite pages to resemble the colour of a maggot and is bound in brown carton to represent the bark of a tree.
"Die Made" was part of the blackbooks project by Tino Graß and was exhibited once in Cologne and once in Tokyo as part of the annual exhibition of the Tokyo Type Director's Club, which also featured the project in their annual publication.
Photos 7 to 11 © Tino Graß, 2015, photo 12 © TDC Tokyo, 2016
2015, University of Applied Sciences Düsseldorf